Shopping Cart
Your Cart is Empty
There was an error with PayPal
Click here to try again
Thank you for your business!
You should be receiving an order confirmation from Paypal shortly.
Exit Shopping Cart
If you enjoy Fantasy, Paranormal, and Vampire Romance novels with plenty of story,

action, love, and lust, including sexy flawed heroes and beautiful spirited women who don't mind getting a little blood on

their hands? You have come to the right place.​
What Is It About
Sent by the Mage Brekan, Keilah, outlawed Princess of Carrum Bahl travels back in time to seek out Radin Hawk, the reincarnation of an ancient warrior king. She is not prepared for the strong feelings she has for him or the feeling of familiarity.
Radin is always game for a good fight, but when the battle risks the woman who reminds him of his lost love he is not sure the price is worth it. But how can he leave her undefended to return to his own time?

They follow Brekan on his quest to defeat Anya the Sorceress Queen and right an ancient wrong. But wonder what he is hiding. Can they trust their feelings and each other or are they just pawns in a larger game?

Of a sudden,​ the man across from the Wolf King looked up as well. Black eyes locked with hers. Brekan! No! Fear swamped her. She rose and spun to flee, but her spirit felt weighted. She glanced over her shoulder. He was closing, a dark billowing shadow. Something clamped down on her arm. And she couldn't move. His fingers burned her spirit flesh like a million searing fires. She gasped, fighting the pain, battling for release.
"I know that is you, Anaya. I can see your shade hovering above the woman you possess. Brekan's words ripped into her head, her heart, messing with her mind. His voice so familiar, once loved, she almost weakened.
"You shall not be free until you hear what I have to say."
"She gathered her wits. She was Anaya, Sorceress Queen. He would not better her this time. Why are you here, Brekan? The worms should have eaten you long ago?" she growled, using her mind powers.
His lips curved in a cruel smile. "Perhaps I longed to see you again."
"Always the romantic." She sneered. "But you fool me not. Now your true reason?"
His face darkened. "I know what you are about. I shan't let you get away with it."
"And how do you propose to stop me?" She threw out her free hand to point below. "With a handful of pitiful rebels?"
"I have the Wolf at my side."
For a moment Anaya hesitated, her perfect oval face reflecting something akin to fear. "It cannot be he. He died centuries ago."
"As I died centuries ago? You were close enough to see his face. Did it not look like him?"
Anaya stilled. It did look like the Wolf King, leader of the Second Tribe. The one who had defeated Czaten in battle all those years ago. The one who would not conform to Czaten's rule and wishes for the perfect society. "Looks have been known to be deceiving."
Brekan ran his gaze up and down Anaya's slender body, encased only in a pale gown of sheer green silk. "Above all others, I should know that."
"You were a fool to think I could really love you. I wished to learn all I could of the Old Magick, and you were the only one willing to teach me. Those other doddering fools were too set in their ways, unable to accept a woman into their order."
"Because of you I broke with my Brothers and was condemned to banishment."
"Did I not punish them for you later? Did I not convince Czaten to have Polanthas razed and every last one of the Brethren buried beneath it?"
"Your wickedness shall be paid for in blood one day, Anaya. Mark my words."
"Your wickedness shall be paid for in blood one day," she mimicked in her deepest voice. "Your threats serve only to sicken me. You are weak. You were always weak. How could you ever have thought I loved you?" She laughed shortly. "You were useful to me that was all."
Brekan tensed against the pain in his breast. As you will be to me, he thought. But he had to be careful. If Anaya should get an inkling of his plan, all could be lost.
He breathed deeply to stay calm. He was so close to fulfilling his quest he could almost taste it. But everything had to be played out in the correct order, like a game of chance. There would be no room for mistakes this time.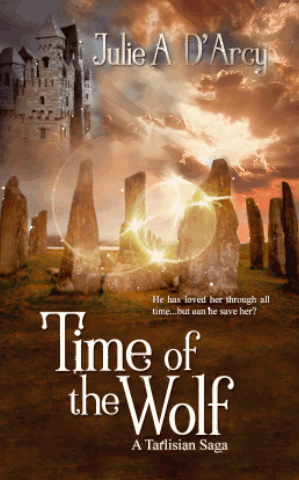 Praise For ​

Time Of The Wolf​
N. N. Light
VINE VOICE
5.0 out of 5 stars *****​
A breathtaking time travel romance...
Reviewed in the United States on April 15, 2021
Can a love through the ages right an ancient wrong? Mage Brekan sends Keilah back in time to find Radin Hawk. She's an exiled princess and he's a reincarnated ancient warrior king. The mission is clear, or is it? She can't deny her feelings for him and his for her. Can they defeat Anya the Sorceress Queen and finish their quest?
What about their lost love? Can they trust each other and Brekan or are they merely cogs in a dastardly game?
Time of the Wolf is a breathtaking time travel romance I couldn't put down. I instantly connected with Keilah and her quest. Radin is a classic hero yet his vulnerability makes him irresistible to the reader. There's a lot of action, magic, passion, and intrigue in Time of the Wolf. These elements blend together with a gripping plot to make Time of the Wolf an exceptional read.
From the characters to the action scenes to the magical realism to the love of the ages, it all had me whipping through the pages until the very end. Fans of Patricia Briggs will love this time-travel fantasy romance. Highly recommend!
Read what "InD'tale Magazine," wrote about "Time of the Wolf."~~
5 stars *****
& The Crowned Heart Award. 2021
'A supernatural tale of time travel, past lives, and insurmountable passion, "Time of the Wolf" pulls readers through a vortex of high stakes adventure and enduring romance! The plot is a suspenseful tale steeped in lore, possession, betrayal, obsession, and vengeance.
Characters are flawed, authentic, and believable beings who leap from the page as their stories unfold. Even small bit characters manage to provide imagination, sparking embers readers will relish.
Vibrantly evil villains are monstrous, with hints of vulnerability that don't quite offset their diabolical desires. Readers will get a rush from thrilling action-filled battles, and goosebumps from chillingly hungry fiends found within this quest to destroy evil and put right the wrongs of yesteryear. Ms. D'Arcy's first installment to this series is a howling inauguration to an enthralling saga of vendetta, sorcery, and legend in a wonderfully rich landscape of fairytales, fantasy, and fate.'
https://indtale.com/reviews/paranormal/
time-wolf-%E2%80%93-tarlisian-sagas-book-1
Reviewed by
Tonya Mathenia
/